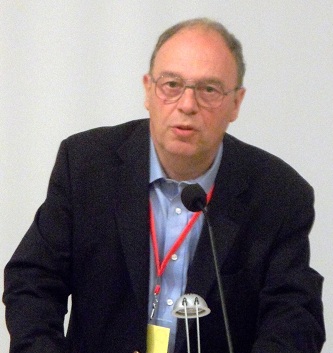 On September 18th 2019, National Secular Society President Keith Porteous Wood, IAFT spokeperson, urged the UN Human Rights Council (UNHRC) to exert pressure on the Vatican to submit long-overdue reports outlining its response to child sexual abuse in the Catholic Church.
Le 18 septembre 2019, le Président de la National Secular Society, porte-parole de l'AILP, Keith Porteous Wood a demandé au Conseil des Droits de l'Enfant des Nations unies d'exercer une pression sur le Vatican pour que celui-ci remette enfin les rapports (en retard) concernant ses réponses sur les abus sexuels commis par l'Eglise catholique sur des enfants.
El 18 de septiembre de 2019, el Presidente de la Sociedad Nacional Secular, portavoz de la AILP, Keith Porteous Wood, pidió al Consejo de las Naciones Unidas sobre los Derechos del Niño que presionara al Vaticano para que finalmente entregara los informes (tarde) sobre sus respuestas al abuso sexual de la Iglesia Católica contra los niños.
https://www.youtube.com/watch?v=X5ysn0r7PA0&feature=youtu.be
https://www.secularism.org.uk/news/2019/09/nss-urges-un-to-pressurise-vatican-on-overdue-child-rights-reports