Libre Pensée Française: Hello Keith. Could you introduce yourself?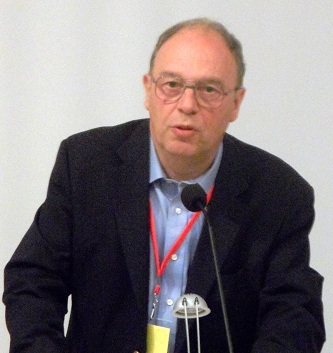 KPW : The National Secular Society was founded in 1866 and has always been internationally, as well as nationally, focussed. I became its CEO in 1996 and have been its President since retiring five years ago.
We have six staff, led by CEO Stephen Evans. Most of them are involved in campaigning and have plenty of work to do. Most of our work is in the field of education. A third of publicly funded schools are religious. The Church of England is "established" and closely connected to the state. King Charles will be crowned in a religious service. We have 26 bishops in Parliament.
We were instrumental in the abolition of the (Christian) blasphemy law but are starting to become concerned about religious threats to freedom of expression, particularly from Islamists.
Fifteen years ago we became a Human Rights organisation rather than an atheist one. We thought that that fight had run its course and the change would make the NSS a more receptible platform for our work, especially at the UN, and particularly at the Committee on the Rights of the Child.
We have good (but of course never enough!) press coverage.
We have worked fruitfully with Libre Pensée for over twenty years and value our partnership with you.
 LPF: What is your opinion on the extent of abuse by Catholic clerics worldwide and the Church's reaction to it?
Among many other concerns, I have been horrified about the extent of clerical abuse of minors that has become apparent in the last thirty years. The Catholic Church has completely failed to control that, and does not even seem to be trying to do so. This problem is compounded by it enjoying partial if not total de facto impunity to the law over the sexual abuse of minors practically everywhere in the world. In some countries, including Poland, , by virtue of its concordat that impunity is at least in part, de jures.
This is a failure of secularism, which is one justification for our work in this area. More important is our determination to help secure justice for victims against clerical perpetrators of abuse operating with impunity. We are also motivated to continue because no one else is doing this work systematically (to the extent our resources permit this) over the entire world with the UN. We have found no better way to pursue these objectives worldwide than to collaborate with the UN, which holds all countries (except the USA, which alone has not signed the Convention) to account on child welfare.
An early success (in 2014) with the UN, was prompting the most critical report imaginable by the Committee concerning the Holy See/Vatican.  Since then we have been alerting the Committee to problems around the world and making recommendations.
They normally reflect our concerns in their reports. Our recommendations often include independent national inquiries, effective mandatory reporting laws and the longest possible statutes of limitations, both criminal and civil.
The UN recently told us in Geneva that it values our work, and we were honoured that they published our latest report on France in both its original version, English, and in a French translation we provided. I think that is the first time they have produced a NGO's report in two languages.
LPF: You produced a report to the UN detailing the scale of sexual crimes committed by clerics in France and the extent to which French justice had dealt with this. What did your report say?
KPW – Given France's reputation for laicity, we had expected that we would find few problems, and any there were would be well policed. Sadly, we found the complete opposite.
We were fortunate in that shortly before we reported to the UN, the Church's own inquiry (CIASE) issued its final report. It detailed endemic abuse and made numerous recommendations, some more realistic than others. We drew key aspects CIASE's report to the attention of the UN.
CIASE estimated that there have been 330,000 child victims of clerical abuse in France over the last seventy years, which must mean there had been around a million abuse incidents.
CIASE warned that this abuse is continuing. The most elementary preventative response would be to demand that all reasonable accusations of abuse be referred to the police, as French law has required since 2000. It is inexcusable (the politest word I can use) that CIASE did not recommended this. Nor has the Church hierarchy done so; To this day, it is doing the opposite by imposing an absolute omertà on disclosure of abuse. This leaves abusers free to continue to abuse almost with legal impunity.
Some aspects of the CIASE final report were laudable, but the above omission is just one of many factors that lead us to question CIASE's impartiality. Nevertheless, to CAISE's credit, both its President, J-M Sauvé, and the President of the Conference of Monks and Nuns, Veronique Margron, have referred to criminality in the Church.
What other organisation would get away with this, other than perhaps the Mafia?
A further atrocity relates to the compensation of victims, many of whose lives have been ruined by the abuse. So far, very few have received compensation, and the sums received have been paltry, justified disingenuously by the Church's hierarchy falsely claiming it to be impoverished. Yet as Libre Pensée and France 2 brilliantly exposed, the Church' disposable assets exceed Euros 8 billion. (I urge you to purchase the excellent book Libre Pensée has just published detailing the fascinating results of its forensic investigations into the Church's astonishing wealth.)
On the basis of precise surveys based on official public figures, published, sometimes with difficulty by Catholic dioceses, it was necessary for Free Thought to demand and obtain the publication of accounts, by studying the accounts of 93 dioceses, it appears that the Catholic Episcopate possesses at least 8 billion assets and own funds that could be usefully used to compensate the victims. And this without counting the goods of religious Congregations and Foundations which must also be very high.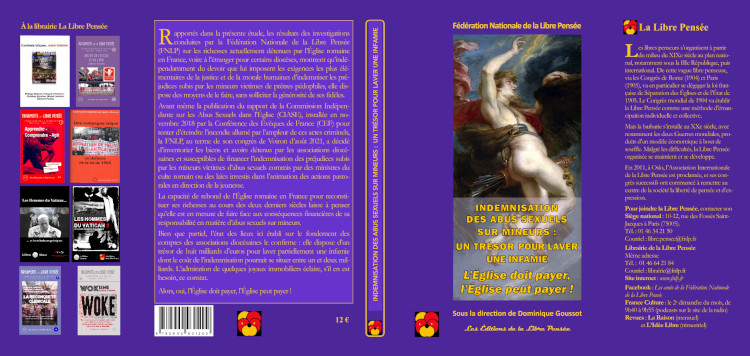 As Dominique Goussot, vice-president of the French Free Thought (author of the detailed study), says, the Catholic Church is sitting on a heap of gold. Let us point out that in the debate on France 2, and elsewhere in the press and the media, the Conference of Bishops of France did not dispute the figure issued by Free Thought. The Church must pay for justice to be done and in addition, she can pay the victims compensation widely.
Given this, it is a moral and legal outrage that Euros 60,000 is the maximum the Church is prepared to pay (but rarely does). A fairer sum would be closer twenty times this amount.
We also raised with the UN the legally questionable barriers to the Church being sued in French Courts for fair compensation. CIASE, to its credit, commendably raised this.
LPF : At your suggestion, the Committee asked the French government to deal with these matters in its report, which it was obliged to do, even if it had not been asked. Did it do so?
KPW : Endemic criminality concerning clerical abuse of minors in the French Church was less of a surprise than what we found to be the complicity of the state, including all arms of justice, on a huge scale over these seven decades.
Let me give just two of, sadly, many examples.
1. The approximately one million abuses (many of them since reporting became mandatory in 2000) only resulted in 214 convictions – (0.02%). To describe this as an indictment of French justice seems something of an understatement.

2. The former top Catholic in France, Cardinal Barbarin, was convicted of failure to report abuse by a cleric who had appointed himself as a scout master and over decades grievously and methodically abused over 3,000 scouts, some as young as seven. The evidence was overwhelming and too awful to repeat here. There is no doubt Barbarin knew about this in detail.
LPF : That Barbarin was convicted demonstrated the strength of the case; so why did the public prosecutor refuse even to take the case?
Because they didn't, we (and others) had to pay for a private prosecutor. Despite the Cardinal not denying knowledge of the abuse, higher courts reversed the conviction. Having read the transcripts of their deliberations, I remain in disbelief.
Under the Convention of the Rights of the Child, states are required to report "difficulties … affecting the degree of their fulfilment of the obligations under the … Convention". Being determined that this matter was properly considered, we suggested to the Committee that they formally request that France cover it in its upcoming report. The Committee did so, but unbelievably, despite this the state still made no reference to clerical abuse in its report.
Why did the state not consider that the 330,000 child victims of abuse in Catholic settings since 1950 cited by CIASE constituted a difficulty? How high would the number have needed to reach before it were to have been regarded as one?
Similarly unfathomable, Libre Pensée arranged for a deputy to ask a written question to the French government at the National Assembly about the failure to respond to the UN. The Deputy asked when the government would respond to this legitimate request. Predictably, even after months, there has been no answer.
Both these failures to respond raise fundamental and deeply troubling questions about the extent to which the supposedly secular state:
1. is taking any responsibility to administer justice for child victims and against perpetrators of abuse,
2. considers that the Church to be above the law, as a respected priest has told me he believes it in practice to be, and
3. continues to regularly award the Legion d'Honneur to bishops and even a papal official in the knowledge of this endemic criminality.
Why? What is going on?
LPF: How do you see the continuation of the action to bring justice to the victims of the Catholic clergy (300,000 in France alone)?
KPW :
1. We encourage everyone with a knowledge of clerical abuse of minors to bring it to the attention of civil justice, and crucially also to the media and to national and international victims' groups. We may be able to assist in this respect.
2. We encourage secularists and freethinkers to assist victims groups and bring publicity to these matters. The Libre Pensée group in Lyon has done this very successfully in respect of several perpetrators. I pay tribute to their achievements. They are an exemplar to be followed. I will assist where I can as I did in Lyon.
3. We, and hopefully others, continue to raise these issues at the UN. I was pleased that FNLP, IAFT, local and international abuse groups joined as co-signatories of our submission to the UN. This will make it much more compelling, and I am confident the UN is taking it seriously.
4. We encourage those within the Church fighting against abuse.
Clericalism is they great enemy of justice for both victims and perpetrators: the episcopate protecting itself.
There is a glimmer of hope in the emerging synodality movement, most prevalent in Germany. That is starting to exert the power of the laity against the hegemony of clericalism.